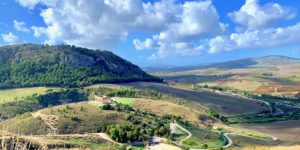 Segesta & Monreale
This private shore excursion provides a great overview of Western Sicily. Giving you also the possibility to enjoy the beautiful north coast and admire some of the great sites of Sicily.
Starting time subject to ship arrival
from Palermo Port
Pick up at the port by your private Guide Driver and board a Luxury Mercedes Vehicle. Relax on a scenic drive (1h15min) into the Sicilian countryside heading west following the beautiful Gulf of Castellammare. Enjoy the sights of the pleasant wine producing area of "Bianco d'Alcamo".
Starting time subject to ship arrival
Segesta
Visit the heritage of the Greeks in this singular archeological area embedded in a wonderful countryside. The town was built by the Elymians who, according to the Greek historian Thucydides, were Trojan refugees. The well preserved temple was built in the late 5th century BC. Higher still is the theater that offers great panoramic views. New excavations that have uncovered the remains of a stoà, a place where citizens strolled and discussed among themselves, an agora where assemblies were held.
Monreale
Find the apotheosis of Norman architecture in Monreale. The Cathedral with its splendid mosaics from the 12th century. It is also part of the World Heritage Arab Norman Period. Built under William II. Certainly it rivals Saint Sophia in Istanbul. And with Saint Mark's in Venice in its use of decorative mosaics. The cathedral combines aspects of Arab, Byzantine and Norman architecture.
Drive back to Palermo 30min
Drive back to Palermo 30min
William II (1154-89), the Norman ruler of Sicily commissioned the monastery in Monreale. It combines in one project employment of both Sicilian and Byzantine craftsmen. The highlight of the cathedral is its interior. Incandescent with the gold of the mosaics. These cover the all walls of the nave. Further the aisles, transept and apse. 81800 square feet in total.