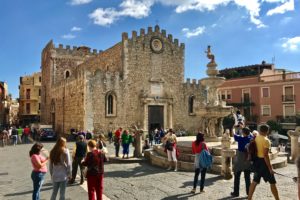 If someone had to spend just one day in Sicily and asked "What ought I to see?" The answer without hesitation is "Taormina". The view is among the loveliest of Italy. The panorama is dominated by the Volcano Etna, often topped with snow and always smoking. The vegetation is lush with sub-tropical plants, the climate is delightful.
Starting time subject to ship arrival
from Syracuse Port
Meet your private Driver Escort at the port and board a Premium Mercedes vehicle. Drive north (1.5h) along the East coast passing by Catania and the huge lava flow from the eruption of 1669.
Starting time subject to ship arrival
Castelmola
Just the drive up to the small hilltop village Castelmola is worth the trip. Drive along the beautiful east coast to an enchanting area which is covered with many woodland areas. A delightful hamlet looking down on Taormina. From the old access gate to the historic center, stairs take you up to the remains of an Arab Norman castle, the panorama from here is superb.
Taormina
Next continue to the resort town TAORMINA, the pearl of the Ionian Sea. Enjoy a visit in the charming town center, including the Greek Theatre which has inspired generations of travelers and artists. The town is located on the Monte Tauro hill, dominating two grand bays below and on the southern side, the top of Mount Etna. Time for a lunch in one of the many local restaurants.
Drive back to Syracuse 1.5h
Drive back to Syracuse 1.5h
The road to the village of Castelmola winds serpent-like to the medieval town, where there is yet another marvellous view. The village is perched on its ridge facing the bay of Naxos with its picturesque fortress on top of a crag. The streets are narrow, the houses often decorated with flowers or entwined with vines. The Panorama is superb.