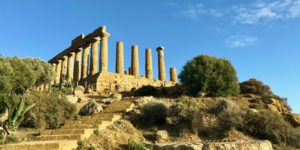 The Greek Heritage
Akragas (Agrigento)
Visit the extraordinary Valley of the Temples of ancient Akragas (Agrigento). A UNESCO World Heritage Site with a private tour guide. These are among the greatest Greek ruins in the world. And also the splendor of the temples in the Doric style. The town reached its maximum splendor in the V c. BC when the magnificent Doric temples were built on the southern hill.
When it was called Akragas, Pindaro considered it to be "The Most Beautiful Among Mortal Cities"
Start after breakfast
from Catania
Pick up by your private Driver at your hotel and board a Premium Mercedes vehicle. Drive (2h) through the plantations of orange trees growing in the Piana di Catania. Then follow the hilly landscape covered with grain fields that characterize the central part of the island.
Start after breakfast
Visit 2h/Lunch break
Valley of Temples
Arrive in AGRIGENTO. After a short break for coffee join your private local guide for a guided walking tour through the famous Valley of Temples. Tour this magnificent archaeological park that consists of several Greek temples, built between 430 and 510 B.C., all majestically positioned in the same area on rocky crests south of modern day Agrigento. Here you'll see the Temple of Juno, with its excellent views of the entire valley, and the Temple of Concordia, beautifully preserved. And finally the oldest ruin is traditionally named the Temple of Hercules. You can explore and learn about a few ancient Greek temples that exist in the valley that have since fallen to ruin. Following time for a lunch break in a local restaurant.
Visit 2h/Lunch break
Drive back to Catania.
Drop off at your hotel.
Drive back to Catania.
Optional Experience: The Imperial Villa del Casale, 3rd Century is near Piazza Armerina. It is probably the finest and most extensive display (37,650 sq ft) of mosaics of the Roman era anywhere in the world. Also north African art influenced style, both in composition and the choice of colorful polychrome materials. The owners lived in luxury. The villa had its own private thermae, a reception hall, in addition to large restrooms and living rooms.