Cyclops Riviera
& Taormina
Myth & Captivation of the East. The nearby coast of Acitrezza is characterized by its tumbled black lava and the rocks of Cyclops, according to the Odyssey, supposed to been hurled at Ulysses when he escaped from Polyphemus.
Start after breakfast
from Catania
The day begins by visiting the Baroque center in CATANIA. Including the Piazza del Duomo and the symbol of the city, the black elephant. During a brief Walking Tour you'll get the chance to appreciate this lively city. Don't miss the Pescheria or fish market, a boisterous and fascinating place.
Start after breakfast
Program
Cyclops Coast/Taormina
Stop en route for photo opportunities along the amazing black lava coast of ACI TREZZA with the famous CYCLOPS ROCKS. Next enjoy a lunch break on the coast at a local fish restaurant.

Continue to TAORMINA, the pearl of the Ionian Sea. Visit the lovely town center including the Greek Theatre which has inspired generations of travelers and artists. The town is located on the Monte Tauro hill, dominating two grand bays below and on the southern side, the top of Mount Etna.
Program
Drive back to Catania 1h
Drop off at your hotel.
Drive back to Catania 1h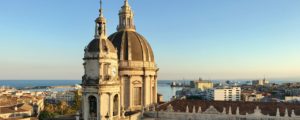 Idyllically perched on a rocky promontory high above the sea, Taormina has been the most popular tourist destination in Sicily for a couple of hundred of years, ever since it became an integral part of the Grand Tour.
If someone had to spend just one day in Sicily and asked "What ought I to see?" The answer without hesitation is "Taormina"
The view is among the loveliest of Italy. The vegetation is lush with sub-tropical plants, the climate is delightful. The panorama is dominated by Etna, often topped with snow and always smoking.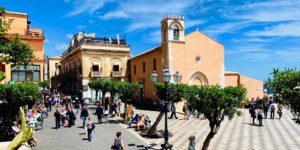 The presence of Etna, both beautiful and sinister, must have some fatalistic effect on the character of the inhabitants of Catania, though it seems to be taken cheerfully for granted. In the old center it has many grand and important Baroque buildings made out of dark grey lava. In the middle of the Piazza del Duomo is the symbol of the city: the much loved fountain with its black elephant.