Piazza Armerina
& Caltagirone
In Piazza Armerina, North African art influenced style, both in composition and the choice of colorful polychrome materials. It is the tremendous variety of styles that make the mosaics so intriguing. Mythological scenes, animals and birds, hunting and music. The owners lived in luxury. The villa had its own private thermae, a reception hall, large restrooms and living rooms.
The Roman Villa del Casale, near Piazza Armerina, has probably the most extensive and spectacular mosaics of the late Roman era anywhere in the world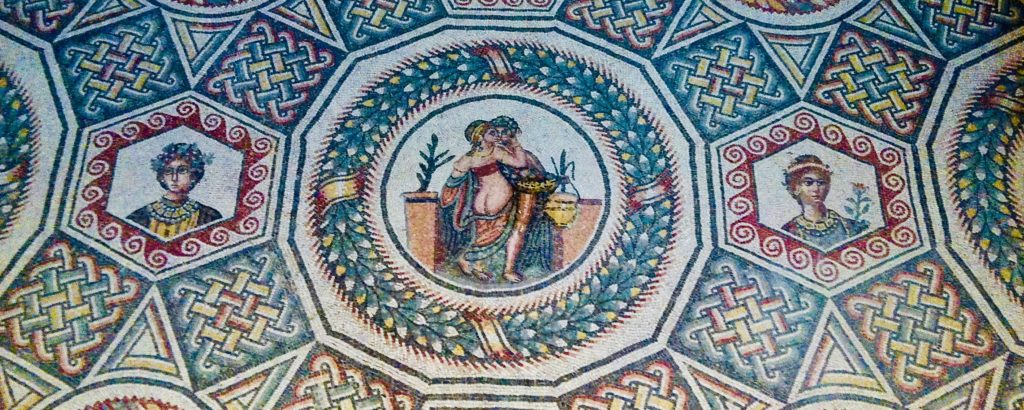 Start after breakfast
from Taormina
Pick up at your hotel by your private Driver and board a Premium Mercedes vehicle. Lean back and enjoy a pleasant drive (2h) through the extensive orange plantation area "Piana di Catania" and the wheat fields dominating the central part of the island.

Start after breakfast
Program
Arrive in PIAZZA ARMERINA to visit (1.5h) with your private local guide the well preserved Roman Villa from the 3rd Century. It is among the most luxurious of its kind. Giving an interesting insight into Roman life at the time. The villa is especially noteworthy for the richness and excellent quality of the mosaics which decorate almost every room. The mosaics include a long hunting scene, the famous sporting "bikini girls" and many classical and geometrical examples. Following time for a lunch break at a local Restaurant. 

Continue to the top hill town CALTAGIRONE. A baroque town and the capital of ceramic production in Sicily. Caltagirone's Staircase of Santa Maria del Monte was built in 1609 to connect the old lower town to the new upper town. Since 1954, each of its 142 steps was decorated with a unique design of colorful, handcrafted majolica ceramic tile.
Drive back to Taormina 2h.
Drop off at your hotel.
Drive back to Taormina 2h.
The baroque town Caltagirone, situated on three hills with tortuous streets and dramatic vistas. It is a lively city, above all known for its production of ceramics that have been used for centuries to decorate the most unexpected places. Houses, balconies, public and private parks, churches, streets and squares. The typical colors of local pottery reflect the colors of Sicily: blue, sage green and yellow.