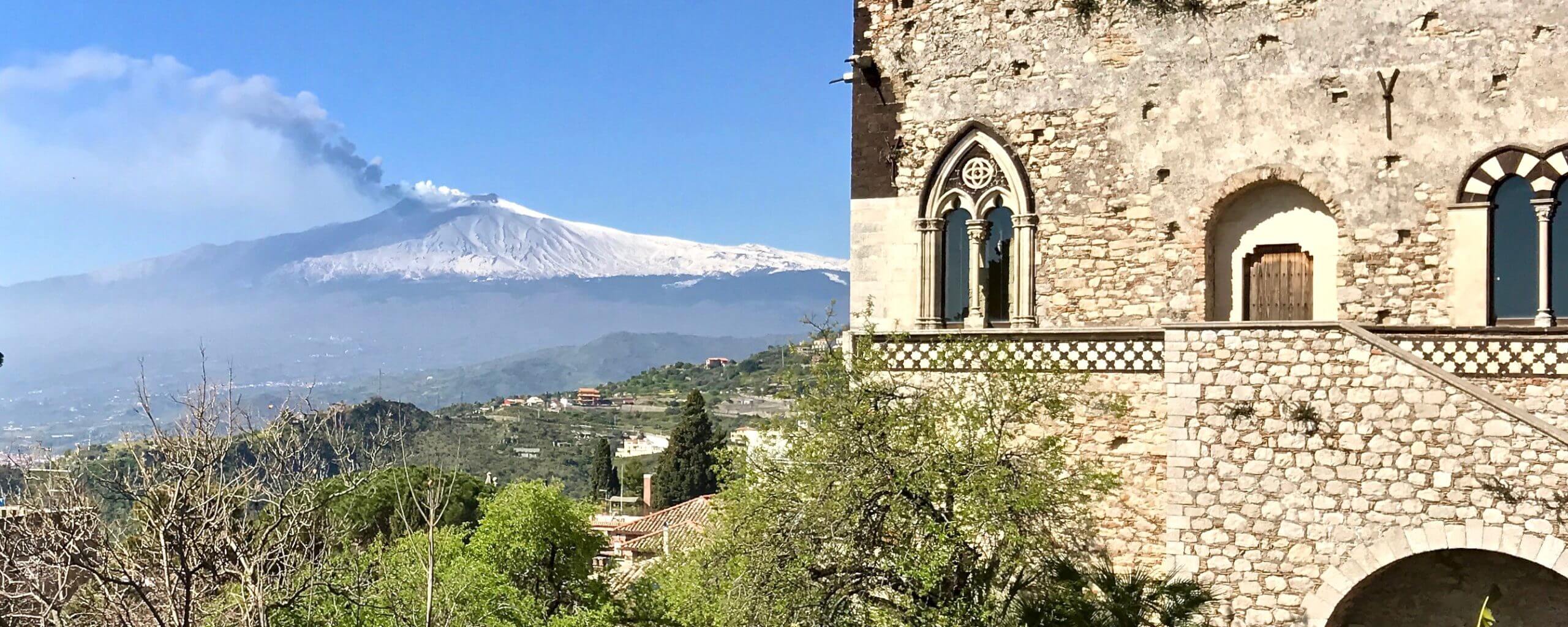 The panorama is dominated by Mt Etna, often topped with snow and always smoking. Near the coast the vegetation is lush with sub-tropical plants, the climate is delightful. And finally visit Coppola's Godfather Movie Locations.
Start after breakfast
from Taormina
Pick up at your hotel by your private Driver Escort and board a Premium Mercedes vehicle. Drive (1h) up the volcano till 6500 feet reaching the Silvestri Craters. On the way Admire the landscape and the vineyards growing in the shadow of the volcano inside the DOC wine production area.
Start after breakfast
Visit/Lunch break
The Volcanic Part
Enjoy a walk at the nearby Silvestri Craters or simply soak up the atmosphere of the Mount Etna. An eruption from 2001 left its mark at the Rifugio Sapienza area. Depending on the weather, possibility to reach 9500 feet by cable car (Optional). Or experience a guided tour on a Quad (Optional). The summit craters represent the area where activities continually change the morphology of the vulcano. Lunch break at a local winery or a fish restaurants on the coast.
Visit/Lunch break
Visit 1h
Coppola's Godfather Locations
Drive to the small village Savoca, a delightful place built on two hills and with remnants of a castle. Stop for a lemon Granita at the famous corner bar Vitelli. Make our way to the church of St. Lucy, where Apollonia and Michael's wedding was shot. There are also incredible views along the coastline from the belvedere.
Visit 1h
Drive back to Taormina 40min.
Drop off at your hotel.
Drive back to Taormina 40min.
Mount Etna is one of the world's most active volcanoes. And an outstanding example of ongoing geological processes and volcanic landforms.
Etna has also been dealing out benefits to the lands which lies at its feet. At every eruption the volcano deposits enormous quantities of minerals. Which make the orchards luxuriant and fruitful, as well as the vineyards and the vast woodland areas. The highest volcano in Europe that caused wonder and curiosity among the many 18th-c, northern-European visitors to the island. It frequently spews fiery-red lava into the older flows that enrich the black, fertile soil around Catania.