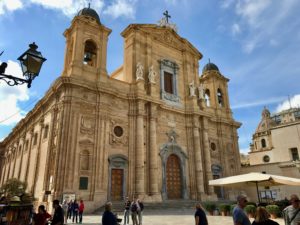 Spend your time in a relaxed way getting a taste of the old traditions. Sicily has more vineyards than any other Italian regions. Competing also for first place as the largest wine producer. The island is renowned for the many outstanding wines. Some of them produced in the wine capital of Sicily, the city of Marsala. Giving the name to the world-famous wine.
Start after breakfast
from Trapani/Marsala
Pick up at your hotel by your private Guide and board a Premium Mercedes vehicle. Next drive (45min) along the pleasant SALT FLAT coast. On the way stop nearby the old windmills with possibilities for some nice photos.


Start after breakfast
Drive 1h/Visit/Lunch
Erice
Just driving up to Erice is worth the trip! The view from here is stunning. A stroll through the cobblestoned streets of the medieval town will take you to the public garden. It is located nearby the ruins of the Norman castle. The view from here is stunning. 


Drive 1h/Visit/Lunch
Visit/Tasting 1.5h
Winery
Arrive in charming MARSALA for wine tasting in one of the area's historic wineries. The town preserves a cosy center with its cathedral from the Norman times, even though it was heavily bombed during WW2. Finally learn more about the Marsala wine making process. And the fascinating history of local viticulture during a visit at a local WINERY.


Visit/Tasting 1.5h
Drive back
Drop off at your hotel
Drive back

Nearby are the salt pans with its characteristic old windmills. Located inside a beautiful area protected by the WWF. Right on the coast between Trapani and Marsala. The salt produced in this area is part of Slow Food Italian Presidia.
Erice, with its unique location, just about 2500 feet above sea level. It overlooks nearby Trapani and the salt flats. A lush park surrounds the hilltop castles. Moreover, charming old stone streets invite to stroll. And investigate several medieval churches.