Segesta and Monreale private tour provides a great overview of Western Sicily. And You'll love the location. The well preserved temple and the greek theater were built in the late 5th century BC. Further admire the Heritage of the Greeks and the Normans.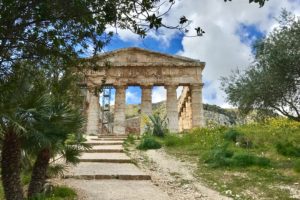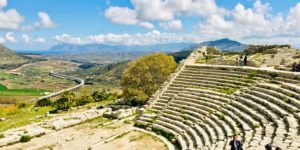 Start after breakfast
from Palermo
Pick up by your private Guide Driver and board a Premium Mercedes Minivan. Relax on a scenic drive (1h15min) following the beautiful Gulf of Castellammare west of Palermo. While being on the road have glance at the pleasant wine producing area of "Bianco d'Alcamo" with its soft hilly landscape.
Start after breakfast
Visit 2h
Segesta
During a private guided tour You get the chance to admire the heritage of the Greeks in this singular archeological area. The Greek Temple and Theater are embedded in a wonderful countryside. Visible are also remnants of an Arabic mosque, a Norman church and the Forum Romanum.
Visit 2h
Drive 1h15min/Lunch/Visit 1h
Monreale
Find the apotheosis of Norman architecture in Monreale. The Cathedral with its splendid mosaics from the 12th century. It is part of the World Heritage Arab Norman Period. Built under William II. Certainly it rivals Saint Sophia in Istanbul. And with Saint Mark's in Venice in its use of decorative mosaics. The cathedral combines also aspects of Arab, Byzantine and Norman architecture.
Drive 1h15min/Lunch/Visit 1h
Drive back to Palermo 30min
Drop off at the hotel
Drive back to Palermo 30min
William II (1154-89), the Norman ruler of Sicily commissioned the Monastery of Monreale. It combines in one project employment of both Sicilian and Byzantine craftsmen. The highlight of the Cathedral is its interior. Incandescent with the gold of the mosaics. These cover all the walls of the naves. Further the aisles, transept and apse. 81800 square feet in total.